Each week, as a challenge closes, and we introduce a new challenge to you, we will showcase three challenge entries that spoke to the challenge the most... and they will receive our Top 3 blog badge. This week, we congratulate our Top Three:
Please collect your Top 3 blog badge from our sidebar.
Ladies if you would collect your Top 3 or Winner's badge from our sidebar, we would be happy to see them worn on your blogs! And if
JO ANN
would contact me at the yahoo email address on the right, I will arrange for your prize to be delivered to you! Thank you ROBYN'S FETISH DIGITAL STAMPS for sponsoring our challenge!
We are excited to welcome our sponsor for this week,
Eureka Stamps
!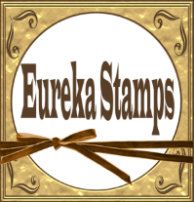 Finally, The Stamps You've been Looking for! Eureka stamps offers a large variety of images and sentiments in many different categories for all of your stamping needs. Our Paper Sculpting stamps add an extra dimension to your creations. Or, Mix and match our Balloons and Balloon Holders to celebrate every occasion. Our Stamps are available as unmounted, deep etched, natural red rubber stamps OR as digital stamps. If Eureka Stamps aren't exactly what you are looking for, Don't miss out on sister companies: QKR Stampede, Biblical Impressions Rubber Stamps, or the newest addition; Alluring Impressions.
Our randomly drawn winner will receive their choice of five (5) digital images from Eu
reka Stamps
... and we thank our sponsor for their generous prize!
This week our challenge theme is:
RIBBONS and BOWS (either or both!)
and a scripture, or uplifting verse or positive words of healing, encouragement, or support
"
...the King gave a banquet for all of the people. from the greatest to the least,
who were in the fortress of Susa. It lasted for seven days and was held in the
courtyard
of the palace garden
. The courtyard was beautifully decorated with white cotton curtains
and blue hangings, which were fastened with white linen cords and purple ribbons
to silver rings embedded in marble pillars. Gold and silver couches stood on a mosaic
pavement of porphyry, marble,
mother-of-pearl, and other costly stones.
"
~ Esther 1:5-6 NLT ~
I did a quick search for scriptures, not expecting to find a reference to ribbons. But here it is... referring to a banquet King Xerxes gave the people
after
his 180 day banquet for noblemen. 180 days! And he gave the regular people a week! What struck me about this scripture was the opulent beauty of the courtyard... it sounds heavenly... even just the purple ribbons on the white curtains... looking through the ages ribbons have always been something to beautify... a gala event, a little girl's hair, or a gift. But how beautiful it is to look out over a luscious garden, mountains, field flowers, or the ocean.... without a ribbon in sight!
As always, you are free to use whatever scripture, or verse/passage that will suit your creation in our theme.
Come and share in the wonderful inspiration created by our design team for the RIBBONS AND BOWS Challenge!
Anne-Marie using Corner Baby
Jenee
using
Angel
Laura
using Smiling Bunny
Pauline using Shamrock (Double Line)
(other creations using sponsor images can be found at my blog during this challenge!)
Vickie using Butterfly and Bluebonnet
We look forward to seeing your creations using

RIBBONS AND BOWS
shared with us here. Have a blessed week!

Please remember that if for any reason our Linky Tool fails us, share your creation through the comments section, with a direct link to your blog post.